Sisters detained over north Manchester stab death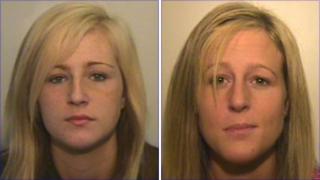 Two sisters have been detained after one stabbed her boyfriend and the other let him bleed to death.
Samantha Brown stabbed Dean Darvill, 23, in the groin after he accused her of having a lesbian affair. Her sister Toni refused to call an ambulance.
The pair pleaded guilty to manslaughter at an earlier hearing.
Samantha, 19, was sentenced to five years in a Young Offenders Institution and Toni, 25, was jailed for four years at Manchester Crown Court.
Samantha had previously been charged with murder but it was reduced to manslaughter.
Mr Darvill would more than likely have survived if medical attention had been sought, the court heard.
Samantha, of Greyswood Avenue, Cheetham Hill, had been in a "volatile" relationship with Mr Darvill for six months when the incident happened 9 January.
Ambulance plea
The couple went to Toni's house, in Wroxham Road, Higher Blackley, with a friend.
Samantha went upstairs with the friend for several hours, and Mr Darvill discovered them in "a compromising position", police said.
A furious row erupted during which he accused them of having an affair, and Samantha picked up a carving knife from the kitchen.
She stabbed him in the thigh, severing several arteries, before running away, the court heard.
As Mr Darvill stumbled and fell to the floor, he pleaded "get me an ambulance".
But mother-of-two Toni refused, and tried to bandage him up.
The other woman tried to call 999 later but Toni slapped her and the call was abandoned.
She later called his family who begged her to ring an ambulance.
She refused to give them her address. She tried to reassure them by saying she had also recently stabbed her boyfriend and he had only needed five stitches.
Toni finally called the emergency services at 0310 GMT, and said he had arrived injured at her door.
Mr Darvill was later pronounced dead at North Manchester General Hospital.
Judge Clement Goldstone QC said: "How anyone can be so callous and selfish is beyond me.
"He [Mr Darvill] was a young man who had battled through difficulties with his own health only to be cut down in the prime of his life."
Speaking outside court, the victim's uncle Chris Mitchell, 44, said the sentence was "an absolute joke" and "a travesty".
He said: "No one deserves to die the way Dean did."