Coghlan 'no regrets' as cleared of third murder charge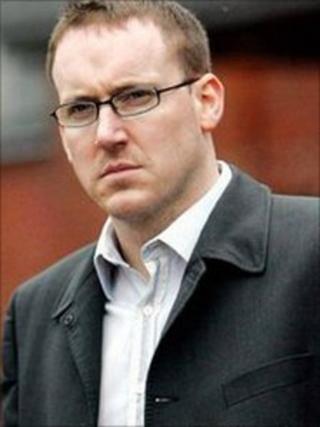 A businessman who has been cleared of murdering a friend in his Cheshire mansion has said he does not regret his actions on the night of his death.
Arran Coghlan was accused of shooting dead Stephen Akinyemi in a fight at his home in Alderley Edge in February.
On Thursday, prosecutors told Liverpool Crown Court they were dropping the charges because they could not prove he had not been acting in self-defence.
It was the third time Mr Coghlan, 39, had been cleared of murder.
He said: "I don't regret what I did. I did the right thing."
"My only regret is that a friend of mine acted in the way he did which caused his death.
He added: "If the incident arises again tomorrow, I'll defend myself tomorrow."
Mr Akinyemi, of Cheetham Hill in Manchester, was discovered in the bathroom of Coghlan's home in Brook Lane.
Mr Coghlan said he invited him to his home to resolve a dispute between Mr Akinyemi and another man and things turned nasty.
Mr Coghlan was injured in the fight but Mr Akinyemi - who was known to police - was shot in the head and stabbed to the upper body, despite wearing a stab vest.
Mr Coghlan, who says he is a family man, was cleared in 1996 of shooting Chris Little dead at the wheel of his Mercedes in Stockport.
Petrol killing
In 2003, he stood trial for the murder of drug dealer David Barnshaw, who was kidnapped and forced to drink petrol before being burned alive in the back of a car in Stockport in 2001.
He was cleared after it transpired police failed to pass on important information about another possible suspect.
On New Year's Day in 2008, Mr Coghlan was stabbed in the head, face and back in a frenzied attack in Cobdens Bar in Stockport.
He said at the time he was an innocent bystander who attempted to break up a fight.
Mr Coghlan said he plans to take legal action against the police.