Dead soldiers' families get Elizabeth Cross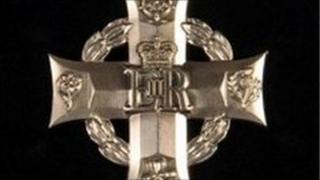 Families of servicemen and women killed in conflict are receiving a medal to remember their sacrifice.
Those who have lost relatives in the Northern Ireland troubles and the first Gulf War are being awarded an Elizabeth Cross at the Fusiliers Museum in Bury.
Among them is the family of Conrad Cole from Rochdale who was only 17 when he was killed in 1991.
The event also marks the anniversary of the Battle of Minden.
British and German forces overcame the might of the French on 1 August 1759 during the Seven Years War.
Recognise loss
Col Mike Glover, the regimental secretary for Lancashire fusiliers and curator of the Bury museum, said: "The day consists of two elements, the anniversary celebrations for the Battle of Minden and a ceremony for those who lost their loved ones.
"Today we have six families receiving the Elizabeth Cross. Many people seem to have forgotten the brave soldiers who fought in Northern Ireland so I am pleased we are able to highlight that today."
Those remembered include Corporal Clifford Houghton, his wife Linda and their two young sons who were killed in the IRA coach bombing in 1974.
The family died when the coach they were travelling in exploded on the M62 near Hartshead Moor Services in West Yorkshire.
The Elizabeth Cross and Memorial Scroll are granted to the next of kin of UK armed forces personnel who have died on operations or as a result of an act of terrorism, to recognise their loss.