Stockport couple escape uninjured as slab hits car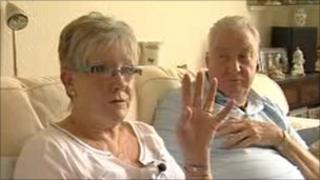 A couple from Stockport escaped uninjured when a concrete slab hit their windscreen as they travelled along the motorway at 70mph.
Jenny and Tom Ferguson's windscreen was smashed as the block was thrown from the bridge over the M56 by Wythenshawe on Saturday evening.
They said the slab, which landed in the back of the car, may have killed one of their grandchildren if they had been in the vehicle.
Police said they were investigating.
'Lives at risk'
Mrs Ferguson said: "I didn't see anything at all, it just came. Luckily it just skimmed past us and ripped part of the roof.
"It wasn't until I got out to get the glass off me that I noticed the concrete block in the back passenger foot well."
Her husband, Tom, said: "It was Jenny that took the brunt of it, it whizzed past her. It was absolutely horrific.
"We hope that by highlighting what happened to us it might deter other people from hurling things off bridges."
Pc Mel Sharples, of the Road Policing Unit, said: "Fortunately this couple were not injured but the result of this incident could have been much worse.
"It is clearly extremely dangerous to throw objects on a motorway and whoever did this behaved in a stupid and irresponsible way.
"This mindless vandalism could easily have resulted in a serious collision. I would appeal to anyone that may have seen anyone on the bridge at Hollyhedge Road that day to come forward, so we can make sure other people's lives are not put at risk."