Concern at Rochdale A&E's ambulance refusal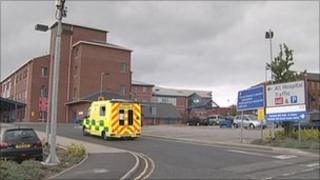 People in Rochdale have expressed concern that the town's accident and emergency (A&E) department will no longer accept ambulances overnight.
Rochdale Infirmary will not take very sick patients or emergency cases between 1800 BST and 0800 BST because of a shortage of doctors.
It will still treat minor injuries, but ambulances with emergencies will be sent to Oldham or Bury.
The Friends of Rochdale Infirmary group has criticised the move.
"I'm so worried about the people of Rochdale having to travel so much further," said spokeswoman councillor Jean Ashworth.
The Pennine Acute Hospitals NHS Trust, which runs the hospital, took the decision last month, citing a possible risk to patient safety because of a shortage of doctors.
Two doctors
It has stressed that its A&E unit remains open for anyone turning up at hospital themselves, but all emergency ambulance cases will be sent to Fairfield General Hospital in Bury or The Royal Oldham Hospital.
The unit will be staffed by two doctors and a team of nurses to offer treatment.
Hospital bosses have been forced to rely on locums to maintain their rota because of a national shortage of A&E doctors, the trust said.
Dr Anton Sinniah, the hospital's clinical director of unscheduled care, said: "These changes will be monitored carefully to ensure patients are being transferred and treated appropriately at neighbouring local emergency departments.
"This is not a position we wanted to be in, but this situation has become more acute in the last few weeks due to the staffing situation and shortage of doctors, particularly middle grade medical staff in both A&E and Acute Medicine.
"This is not a decision the trust has taken lightly but one that has been taken on the grounds of patient safety concerns. The Trust's top priority is patient safety."
Dr Sinniah said the trust was continuing attempts to resolve the staffing shortfalls.
The change comes into effect on Monday evening.