Mother 'smothered daughter with soft toy' in Stockport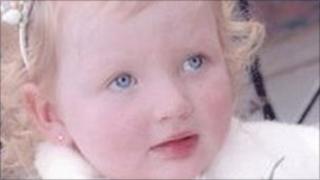 A mother from Greater Manchester murdered her daughter by suffocating her with a soft toy, a court has heard.
Helen Caudwell, 42, is accused of smothering Bethany, three, on 2 October 2009. She then attempted to kill herself by slashing her wrists.
The supermarket worker, from Cheadle Heath in Stockport, was going through a divorce from her husband Miles Kennerley at the time.
Ms Caudwell denies murder at Manchester Crown Court.
'Done something stupid'
She told family and friends that she was scared of losing custody of her daughter, the court heard.
Jurors were also told she was leading a double life. She told her husband and another man, Mark Davies, they were the father of her daughter.
It has since been confirmed Mr Davies was her father.
Bethany was found dead on 3 October by Ms Caudwell's colleagues, the court heard.
Her co-worker Kath Shaw called her to find out why she had not turned up to work.
She replied: "I won't have a job any more, I've done something stupid, I've suffocated Beth," the court heard.
Ms Shaw rushed to the defendant's flat, in Redwood Close, with her manager and found Ms Caudwell with towels strapped to her wrists.
She was wailing: "I couldn't let him take her," as they searched the house for Bethany, the court heard.
They found her dead in an upstairs bedroom.
The little girl's Piglet toy was lying next to her. Her saliva and blood were both found on the toy.
"This toy was pressed down over the face down on to the dummy," Ray Wrigglesworth QC, prosecuting, told the jury.
He said Ms Caudwell had "intentionally and unlawfully" suffocated her during the night.
She had told her mother earlier that she wanted to take her own life, the court heard.
"But the prosecution say that having killed her child she didn't have the courage to take her own life," Mr Wrigglesworth said.
A suicide note to her ex-husband was found in her flat, saying: "I can't stand the thought of him having Beth and making her life a misery like he has mine.
"He can't hurt us anymore."
Ms Caudwell told police she found Bethany dead in bed with her, and must have rolled over her in the night and accidentally suffocated her.
Her defence team will argue she suffered an "abnormality of the mind", Mr Wrigglesworth told jurors.
The trial continues.