Greater Manchester tram extension plans get go-ahead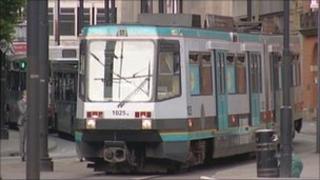 Plans to extend Greater Manchester's tram network have been given the go-ahead.
The leaders of the region's 10 local authorities agreed to invest £0.5bn from the Greater Manchester Transport Fund on three extensions.
Trams are now due to run to Oldham and Rochdale town centres by spring 2014 and Manchester Airport by 2016.
The extensions have been described as providing a "huge boost" to Greater Manchester.
The decision was made at a meeting of the Association of Greater Manchester Authorities (AGMA) on Friday.
Lord Peter Smith, chair of the AGMA executive, said: "Public transport has a crucial part to play in supporting Greater Manchester's economy and these Metrolink extensions will give a huge boost to the region.
"I am delighted that these vital projects can now go ahead."
'Historic announcement'
Councillor Keith Whitmore, vice chair of Greater Manchester Integrated Transport Authority (GMITA), added: "This historic announcement is excellent news and is a vital step towards delivering a 21st Century public transport network for Greater Manchester.
"Both GMITA and AGMA have worked hard to get to this stage and I now look forward to work starting on the ground."
Manchester Airport has also agreed to provide a contribution to funding for the airport extension.
Fourteen new trams will be ordered to serve the extended lines, the GMITA said.