Manchester student's water plan for Africa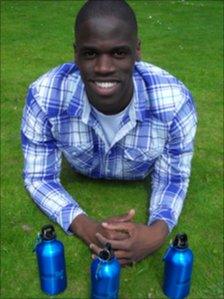 A student has created a re-usable water bottle to raise money to irrigate drought-stricken African countries.
Edwin Broni-Mensah has launched "Give Me Tap", a business that enables people to fill a special aluminium bottle with water at eateries across Manchester.
The 25-year-old will then put 70% of his profits into providing clean water for those who desperately need it in Africa.
More than 40 cafes and restaurants have signed up to the scheme so far.
He was inspired by the plight of many of his relatives back in Ghana.
"Many local people back home become so desperate for water they steal from the main water supply and redirect it to their own homes.
"Being here in the UK, and seeing how water was so easy to access I felt it was important to raise awareness," he said.
Each aluminium bottle costs £7 and refilling it in the participating city outlets is free.
"More than 90 people have already bought the bottles and the response so far has been really positive."
The money he makes will firstly go towards a water project in Namibia.
The PhD student, who is studying maths, is helping raise £20,000 to provide clean water and an irrigation system that will serve 1,200 people.
"We hope to have it installed by November, it is proving harder than first thought because we have to make sure the water system is elephant-proof.
"In the area we are targeting there are 1,200 people, but 4,000 thirsty elephants who would trample on the machinery in a bid to get the water."
Related Internet Links
The BBC is not responsible for the content of external sites.