Ex-Happy Mondays star Bez guilty of girlfriend attack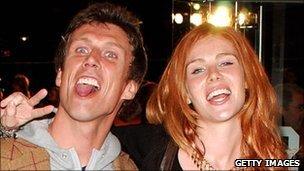 Former Happy Mondays dancer Bez has been convicted of assaulting his ex-girlfriend at their home in Manchester after a row about missing money.
The star - real name Mark Berry - had accused Monica Ward of stealing cash before flying into a rage and throttling her, the court heard.
Ms Ward, 25, told Manchester Magistrates' Court that she feared for her life during the attack in May.
Bez, who had denied the charge, will be sentenced on 25 August.
The argument broke out at their flat in Whalley Range on 24 May, the day after they were paid £300 for a concert by their band, Domino Bones.
Former model Miss Ward told the court: "I told him he had put down the money somewhere and forgotten where he had put it, he has a history of mislaying things."
She said he dragged her from the kitchen to the front door.
"He had both hands around my neck, he was just looking insane and squeezing me for about five seconds."
"He told me he was going to kill me before the police arrived."
Bez left the flat but returned later and kicked the door down, picking up a £20 note before running off again.
Miss Ward said she had previously been a victim of domestic violence at his hands, but agreed there had been aggression on both sides.
Giving his evidence, Bez told the court that he had hidden the money but later found some of it missing.
He said there was a history of money going missing and so told Miss Ward he was leaving her.
"There was no battering, no throttling, that is her fabrication," he said.
Addressing the magistrates, he said: "She has always been violent towards me. I loved the woman, I loved her with all my heart. I have forgiven and forgotten so many times.
"I feel as if my reputation as a man has been destroyed. The last few months I have felt like a rapist.
"I feel my soul has been ripped out of me."
Bez said he returned to the flat because he was wandering the streets in shorts and a T-shirt. He claimed the door collapsed when he pushed it with his shoulder.
Chair of the bench Marie Cash said magistrates found Miss Ward a "credible" witness and convicted her former partner of assault and using unlawful means to gain entry into a property.
She added: "We are not saying it was a deliberate attack but we do believe that a technical assault took place."
Berry, 46, who won Celebrity Big Brother in 2005, said he would appeal against the decision, describing the hearing as a "kangaroo court".