Trafford Council pays for dating for those in its care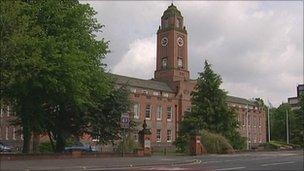 A Greater Manchester council has admitted people in its social service care are allowed to buy internet dating subscriptions out of public funds.
It comes after a Sunday Telegraph investigation found money from other UK councils was being used to hire sex workers for people in social care.
Trafford Council said the personal budgets were usually used to pay for care assistants or to buy equipment.
Dating website subscriptions would also be an acceptable expense, it said.
But the council stressed using its funding to pay for sex workers would be "unacceptable".
It said in a statement: "The council has a clear policy regarding the use of personal budgets.
"Personal budgets cannot be spent on anything illegal or anything that would bring the council into disrepute.
"Personal budgets are used to meet individual assessed needs and are most often used to employ personal assistants and to purchase equipment such as laptops.
"No approval has been given for funding to be used for sex workers as this would be inappropriate.
"Dating website subscriptions are acceptable but as with everything else there are subject to prior council assessments."
Thousands of people in the UK use personal health budgets to buy services with cash allocated to them by local authorities.
Related Internet Links
The BBC is not responsible for the content of external sites.