Altrincham line trams disrupted by power cable damage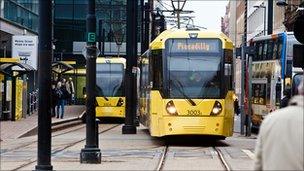 Metrolink services between Old Trafford and Altrincham have been suspended until Thursday to allow repairs to be made to damaged overhead cables.
A bus service is operating between all the affected stops said GMPTE, which runs Metrolink.
An investigation will be carried out into the cause of the damage which happened to a power cable in Timperley at 0730 BST.
Trams are unaffected between Old Trafford and Piccadilly.
Philip Purdy, GMPTE's Metrolink director, said: "Technicians will be working around the clock to ensure services can resume as soon as possible and to identify the cause.
"However, because of the scale of the damage that has been caused to the overhead lines and associated infrastructure, services between Altrincham and Old Trafford are not expected to resume until some point on Thursday."
Extra Metrolink staff are at all city centre stops and those along the Altrincham line, to advise passengers on changes and replacement bus timetables.
Related Internet Links
The BBC is not responsible for the content of external sites.