Rochdale man 'took 200 fireworks on US plane'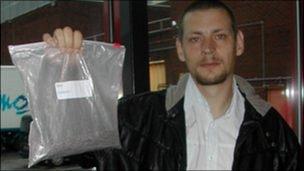 An airline passenger claims he was allowed to take more than 200 fireworks on two flights in the US.
Paul Jones, 29, from Rochdale, Greater Manchester, flew across the US from Kansas to Houston and back to the UK with a bag of bangers and a lighter.
It was only when he arrived at Heathrow Airport earlier this month that officials expressed concern, he said.
A spokesman for the US Transportation Security Administration (TSA) said officials were investigating the claim.
Continental Airlines said it did not have a record of the incident, but that it warned customers about hazardous materials prohibited on aircraft.
Bangers, which are explosives packed in a small tube, are banned from sale in the UK under The Fireworks (Safety) Regulation 1997.
US Federal law prohibits hazardous materials, such as fireworks, from being included in either checked in or carry-on baggage.
Mr Jones had been visiting Wichita, Kansas, during US Independence Day celebrations on 4 July and was left with the bag of Black Cat fireworks.
Deciding to take them home to Greater Manchester, he did not consider the security implications.
"I put them in my pocket, walked through then put them on a grey tray at the customs and security. They had to go through the X-ray," he said.
It was when Mr Jones arrived back at Heathrow earlier in August that his prohibited goods were discovered by UK staff.
"I was waiting for my suitcase at the carousel and when I picked it up I'd opened it up and put my tobacco and everything inside to carry it through," he said.
"The customs said I was looking suspicious so they pulled me, emptied it all out, and asked me how I got it through customs."
Despite their concerns, Mr Jones was allowed to leave with the fireworks.
In a statement, the Department for Transport's Aviation Desk said it was not aware of the incident, and that it was a matter for the US Authorities.
A spokesperson for Continental Airlines, the airline Mr Jones flew with, said security screening of passengers was the responsibility of the TSA.
"However, our airport agents are trained to respond immediately they become aware of any security breach," they added.
"We warn customers on our website about hazardous materials which are prohibited on aircraft under federal law, and the list includes fireworks."
A spokesman from the TSA said they were investigating the incident and examining airport CCTV footage in relation to the claims.
Related Internet Links
The BBC is not responsible for the content of external sites.