Cash draw to do apprenticeship in Greater Manchester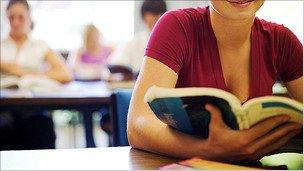 Young people in Greater Manchester are being offered cash to take up vocational courses in a bid to reduce the pressure on universities.
The county's chamber of commerce is welcoming school leavers with a £1,000 golden hello when they take up an apprenticeship scheme.
There are a wide range of courses in construction, engineering, hairdressing and IT, according to the chamber.
The chamber's Chris Fletcher said there was a shortage of skilled workers.
Meanwhile, competition for university places is expected to be intense this year, with fewer places likely to be available through clearing, Universities UK has suggested.
Universities Minister David Willetts has admitted good A-level students faced being turned away from this year amid mounting competition for places.
He told the BBC's Andrew Marr show: "It is going to be tough. There are young people who sadly are not going to get a place, including perhaps some young people who really have got good A-level grades, and for them there is a whole range of options."
Mr Fletcher, the deputy chief executive of the chamber of commerce, agreed with this and pledged to provide more choice for school-leavers.
He said: "For far too long young people have been told that the academic route is the only option.
"The result of this is that we have ended up with a shortage of skilled workers in sectors such as engineering and manufacturing which are at the forefront of the economic recovery.
"We are not saying that people shouldn't go to university but we're asking school leavers to consider whether a degree is right for them.
"There is no point going to university and piling up thousands of pounds' worth of debt doing a course that won't lead to a job.
"An apprenticeship allows young people to earn while they learn."
The courses offer training and a placement in a local business.
The 'golden hello' payment is awarded after the completion of three months of successful attendance on a candidates' chosen programme.
Related Internet Links
The BBC is not responsible for the content of external sites.