Isle of Man students plan Nasa Mars mission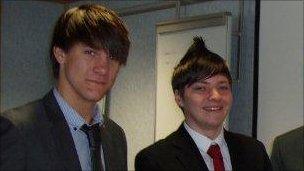 Two sixth form students and a teacher from the Isle of Man have returned from a two-week educational trip to Nasa in Houston, Texas.
Daniel Stevens and Liam Carter-Hawkins, both aged 17, won an essay-writing competition organised by Manx-based aerospace company, ManSat.
Teacher Ben Farnworth, 28, of Ballakermeen High School was selected by the Manx Department for Education.
With other students from across the world, they helped plan a Mars mission.
Liam of St Ninian's High School, who plans to study industrial design and technology at university, said: "It was a once-in-a-lifetime opportunity.
"We had incredible lecturers and very inspirational visits to places such as the Johnson Space Centre and University of Texas Medical Branch."
Daniel of Ballakermeen High School, who wants to take a degree in maths and physics, said: "We got to go to some amazing places and see things that most people don't get to see like behind the scenes at Nasa, watching people on the tour."
Mr Farnworth said that a highlight of the two-week project was a tour of Nasa's old mission control, during which he got to sit in the flight director's chair.