Oldham council trading standards head sacked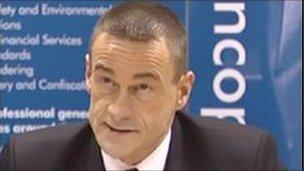 The head of trading standards at Oldham Council has been sacked during an investigation into an attempt to prosecute a kitchen firm boss.
Tony Allen was criticised by a judge as an unreliable witness after the £4m trial of Vance Miller was suspended.
Mr Allen has been dismissed after an independent investigation into the case by lawyer, Stewart Dobson.
But Mr Allen said the Dobson inquiry cleared him of the criticisms levelled by the the judge.
Judge Jonathan Foster said during the trial that the case against Mr Miller from Ramsbottom was "flawed from the start" and ordered that Oldham Council pay the £4m trial costs.
The authority's case focused on Mr Miller's kitchen business which went under a number of names, including Rock Solid Kitchens and Forever Kitchens.
It said that hundreds of customers had complained to trading standards that the kitchens were sub-standard.
Trading standards officers had spent £3m investigating fraud allegations and had raided Mr Miller's business three times since 2006.
During the trial the court heard that Mr Allen could not locate e-mails that were valuable to the case because he had recycled his computer and they had disappeared.
Mr Miller, who represented himself during the 16-week hearing, was cleared of conspiracy to commit fraud and making false representation.
Mr Allen said: "I am surprised that the council have issued this statement at this stage given that the internal process isn't completed.
"It is already public knowledge that I have been cleared in the Dobson inquiry of the criticisms made by Judge Foster at the trial"
Charlie Parker, chief executive of Oldham Council, said: "We can confirm that as a result of the disciplinary investigation into the issues surrounding the prosecution of Mr Vance Miller, a member of staff has been dismissed from the council."
"This dismissal is subject to an appeal and therefore no further comment can be made at this time."
Related Internet Links
The BBC is not responsible for the content of external sites.