Salford prison bank accounts reduce reoffending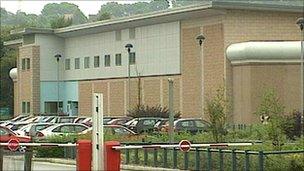 A scheme piloted in a Salford prison which allows inmates to open bank accounts before their release is said to have reduced reoffending by a third.
The project was started as a trial at HMP Forest Bank in 2006, run by the Co-operative Bank and Kalyx, which manages the category B prison.
It was extended and has now seen its 1,000th prisoner open an account.
Researchers at Liverpool John Moores University found the scheme reduced reoffending rates by 34.8%.
A study by the research unit for financial inclusion found that among prisoners serving less than 12 months, the national reoffending rate is 59.9%, but only 39% of those with a bank account at the prison reoffended.
The 1,000th inmate to open an account at HMP Forest Bank said: "I've never had a bank account before and I've never had ID so I couldn't get an account on the outside.
"It's not been easy to get a job and I hope the account will help me - I've got my forklift truck licence now and an account to put my wages in, it's great."
Tim Franklin, chief operating officer of Co-operative Financial Services (CFS), said: "Not having an account can jeopardise job opportunities, make obtaining rented housing more difficult and complicate access to education grants - all conditions contributing to reoffending rates with consequences not just for individuals but for society as a whole.
"By offering this service, which most take for granted, we are making a positive contribution to the reduction of reoffending rates and helping to tackle social and financial exclusion amongst ex-offenders," he added.
The scheme has been extended to a fifth of all UK prisons and more than 4,000 accounts have been opened.
Related Internet Links
The BBC is not responsible for the content of external sites.