Eye threat to Manchester toddler who fell in dog mess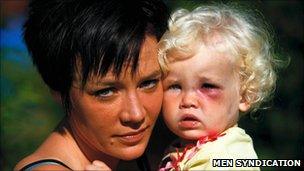 A toddler who fell in dog dirt in a children's playground at a Manchester park may have lost partial sight in one of her eyes.
Amiee Langdon was admitted to the Royal Manchester Children's Hospital after wiping her eye with the mess after falling in it at Platt Fields Park.
She was treated for toxocariasis, a potentially lethal disease carried in dog faeces which can also blind.
Her mother said doctors would reveal the extent of the damage on Friday.
Amiee's mother Suzanne said: "The doctor is going to do more tests on her eye, but we're pretty sure she's going to have more lasting damage in terms of sight.
Amiee, who is two this week, was running towards the gate of the fenced off play area where dogs are banned and tripped and fell into the mess.
"She wiped here eye and I ran to her and as soon as I could I wiped it clean and took her home and bathed it," said Ms Langdon from Fallowfield.
"She woke up in the early hours screaming and her eye was bright purple and red and swollen shut with the eyelashes inside.
"She had a temperature and was very lethargic and in a lot of pain."
Hospital tests confirmed toxocariasis, which resulted in Amiee contracting optical lobe cellulosis, which can lead to blindness and death if not treated within 72 hours.
Ms Langdon said: "Dog owners are responsible for their dog's mess and they've got to realise that it can be devastating and wreck lives."
Amiee, who has been discharged from hospital, is continuing to be treated with three antibiotics and an eye ointment.
Her mother said that councils needed to get tougher on enforcing statutory fines for owners who did not clean up after their dogs.
A Manchester City Council spokesman said: "I hope this extremely upsetting incident makes irresponsible dog owners understand the very real consequences of failing to pick up after their dogs.
"We are thinking about this little girl and her family and we hope she makes a speedy recovery."
Related Internet Links
The BBC is not responsible for the content of external sites.