Police search footballer's home after sex assault claim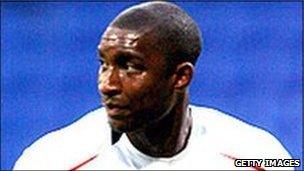 The home of a Premier League footballer was searched by police after a woman said she was sexually assaulted at a party, police sources have confirmed.
The woman, 30, said she was attacked on Saturday night at Bolton Wanderers player Jlloyd Samuel's Cheshire home.
The alleged victim has given a statement to police and the 29-year-old defender's home in Lymm was searched by forensics officers earlier this week.
Police said a 28-year-old man - not the player - has been arrested.
The Trinidad and Tobago star joined Bolton in 2007 from Aston Villa, where he had played for 10 years.
He did not appear for Bolton in their goalless draw against Fulham on Saturday.
A Bolton Wanderers club spokesman declined to comment but stressed the allegations in no way involved Mr Samuel.
Related Internet Links
The BBC is not responsible for the content of external sites.