Man Utd fail to halt charity buckets near Old Trafford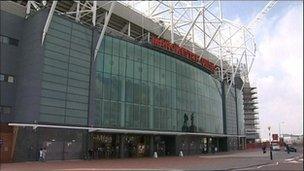 Manchester United have failed in their bid to stop certain charities collecting near their stadium.
They wanted Trafford Council to change its rules to allow only their three nominated charities to collect within half a mile of Old Trafford.
The club feared some supporters had "giving fatigue", but the council's licensing committee rejected the request for a street policy amendment.
The club said the change had been asked for because of fans' complaints.
The football club's charity arm, the Manchester United Foundation, currently recognises Unicef, Francis House Children's Hospice and the Christie Hospital as its nominated charities.
Bob Gregson, general manager of Society for Abandoned Animals, said: "Manchester United should be able to control which charities they have on their own private land, but not on public property.
"We are pleased the council has rejected their plea. It could have had a really negative impact on our charity.
"We need to raise £50,000 by October to ensure we can keep running."
A meeting held on Thursday night was told that the council issues street permits to charitable organisations to collect in the Stretford area every Saturday.
On occasion, councillors were told, there had been friction between Manchester United's recognised charities, which collect on the forecourt in front of Old Trafford, and those raising money with a street collection permit, particularly on Sir Matt Busby Way.
Chief executive of the Manchester United Foundation John Shiels said: "We respect the decision, however we were addressing genuine concerns from fans and visitors to the area who are bombarded by collectors on a match-day."
Related Internet Links
The BBC is not responsible for the content of external sites.