Iranian family in hiding over deportation fears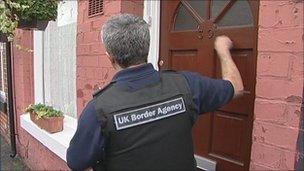 An Iranian family living in Manchester, who say their lives will be in danger if they are deported back to Iran, have gone into hiding.
Mohammed Vahidi applied for asylum in 2007 after he was linked to leaked details on Iran's nuclear programme.
But the application was refused and in June the family were told they would be sent back to Iran on 20 August.
UK Border Agency (UKBA) officers found their home empty and said they would be taken to a detention centre if caught.
Mr Vahidi said he fled Iran with his wife and son after one of his friends, who published the information on Iran's nuclear programme, was killed.
Mr Vahidi claims to have obtained the information while working in a nuclear-related industry.
After settling in the Gorton area of the city the family believed they would be granted asylum - but were notified of their imminent removal in June.
Speaking to the BBC on Wednesday, Mr Vahidi's son, Farhad, 17, described their situation as "stressful, painful and an absolute nightmare".
He contacted the BBC on Friday to say his family had now moved to a new, undisclosed location.
Up to 10 officers arrived at the Vahidis' house at 0630 BST on Friday.
UKBA spokesman Ian MacDonald said: "Because in effect they've ran out now, if we do detain them, we'll take them to a detention centre if necessary and then as quickly as we can we'll place them on a flight so they can leave the country."
In a previous statement, Jo Liddy, UKBA North West regional director, said: "We consider all applications for asylum in the UK very carefully on their individual merits, and will offer protection to those who need it.
"We only remove individuals that are found by the UK Border Agency and, where appropriate, by the courts, not to be in need of protection."
But the UKBA decision has been criticised by a Manchester-based human rights charity, Rapar, which worked with the family on their campaign.
"The UK Border Agency is playing an appalling game of cat and mouse with people's lives," said a spokeswoman.
"This case is a clear human rights issue and the UKBA's contention that it is safe for the Vahidi family to return to Iran is nonsense."
Related Internet Links
The BBC is not responsible for the content of external sites.