Iraqi age-row pupil living in Oldham is detained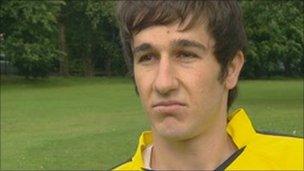 An Iraqi student who went on the run after a row with a council over his age has been detained and will be deported, the Home Office has said.
Rabar Hamad arrived in Wigan, Greater Manchester, in the wheel arch of a truck in 2008. Wigan Council paid for a place for him at a home in Oldham.
He says he is 16 but social workers assessed him as being over 18. He was asked to leave the home last month.
He went missing soon afterwards. He will now be deported.
Rabar, who is an orphan, was first assessed by social workers when he arrived in Wigan. They said he was at least 18.
His age was re-assessed by an independent tribunal doctor, who recorded that he was aged between 13 and 16.
But in a second assessment by the council, he was judged to be 20.
Rabar said documents which would prove his age have been lost and that the Home Office will not accept photocopies.
He has previously told the BBC that he feared being sent back to Iraq, because it was dangerous.
His supporters started the Rabar Hamad Must Stay campaign. Hundreds of people have signed their online petition.
David Wood, strategic director for criminality and detention at the Home Office, said: "I can confirm Rabar Hamad has been apprehended and we will now seek his removal from the UK at the earliest opportunity.
"Immigration absconders are liable to be arrested on sight and anyone facilitating their continued presence runs the risk of prosecution, an unlimited fine and up to 14 years imprisonment."
Related Internet Links
The BBC is not responsible for the content of external sites.