Overcharged disabled Salford widow has phone cut off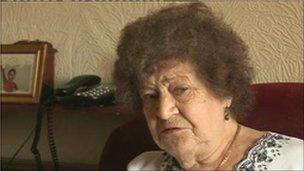 An 87-year-old disabled widow from Salford had her phone cut off for two weeks after a communications company wrongly accused her of owing £6.50.
Elizabeth Morris, of Howard Street, had been incorrectly charged by TalkTalk for a broadband line she did not have.
It apologised on Friday, but Mrs Morris, who has felt "vulnerable" for a fortnight, still has a bar on outgoing calls.
She has complained to the Telecommunications Ombudsman.
The great grandmother and former wartime lorry driver, who survived her house being bombed to the ground during World War II, said she was deeply upset by TalkTalk's actions.
"It's caused me to have almost a nervous breakdown," Mrs Morris said.
"In my life I have never owed money to anyone and they say I owed them £6.50 - but they owe me £6.50 and more besides."
Mrs Morris, who is on medication for asthma and uses a stair lift to help her reduce breathlessness, was left with no means of contacting her doctor in an emergency.
TalkTalk has admitted it made a mistake in incorrectly charging Mrs Morris for broadband.
It told the BBC that it wanted to apologise to Mrs Morris and would restore her phone service.
Related Internet Links
The BBC is not responsible for the content of external sites.