'Backward runners' tackle course in Manchester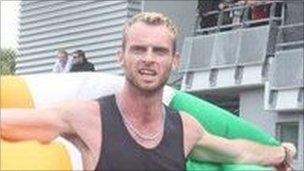 The UK's first backward-running championships have been held in Manchester.
A one mile race for an international field of 38 men and women runners was staged at Heaton Park.
World backward-running champion Garret Doherty, 32, a Dublin-based bicycle rickshaw operator, won the men's race in seven minutes and 30 seconds.
Women's winner was Rachel Butterfield, 28 from Hartlepool, who recorded a time of 12 minutes and 40 seconds.
Mr Doherty, who took the world 5,000 metre title in 22 minutes in Austria a fortnight ago said his life has been transformed by the sport.
"It just came upon me when I was in the park running forwards and I thought I could simply turn around.
"I did it and I had people staring in admiration and wonder, and now 18 months on I'm a world champion.
"It's amazing for the body and helps cure any forward running injury as it works the opposite muscles," said Doherty who has a fleet of five so-called pedicabs in Dublin.
"The Chinese have been running backwards for centuries and they know a thing a two about fitness." he said.
Organiser James Bamber of Reverse Running said he hoped the race would be staged again next year and has plans for a London event.
He said: "I can tell you from personal experience that unless you have trained for months beforehand, your legs will know they've been through a stiff workout and to even manage the whole race without resorting to a slow shuffle would be a massive achievement.
"It's a little-known fact that backward running is not only a great workout, but can actually prevent injury and is a very valuable exercise for athletes rehabilitating from knee injuries."
Related Internet Links
The BBC is not responsible for the content of external sites.