Iraq age row student's supporters to fight deportation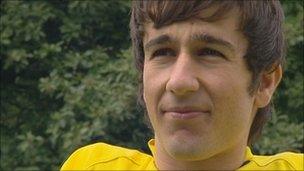 Supporters of an Iraqi student who went on the run after a row about his age say they will fight his deportation.
Rabar Hamad, who says he is 16, was detained in Oldham on Friday and is currently in a detention centre.
He had gone into hiding after social workers assessed him as being over 18 and he was ordered to leave a children's home in Wigan.
His supporters are now taking advice on whether they can go to the High Court in a bid to stop his removal.
Tracy Hynes, of the Rabar Hamad Must Stay campaign, described his detention as "devastating". She said feared he could be put on a flight to Iraq as early as Monday night.
"We've just got to use the time we've got to try and get a judicial review put together," she told the BBC.
"I think the procedures which are being used to complete the age assessment, these really do need reviewing, because Rabar's case is not isolated.
"There's many others - almost 50% of unaccompanied asylum seekers are having their age challenged and many people are ending up in very vulnerable situations.
"When you see Rabar in a social situation you would not pick him out to be 20."
Rabar, who is an orphan, was first assessed by social workers when he arrived in Wigan and they said he was at least 18.
His age was then reassessed by an independent tribunal doctor, who recorded that he was aged between 13 and 16.
But in a second assessment by the council, he was judged to be 20.
Matthew Coats, head of the UK Border Agency's Immigration Group, said: "Disputes over age are a difficult issue in any case which is why it is so important to establish the true age.
"We rely on the age assessments carried out by local authority social workers to ensure our immigration laws are not evaded by those who try to cheat the system.
"Individuals who no longer have a right to be in the UK are instructed to leave. If they fail to depart by the allocated flight then we will seek to remove them."
Related Internet Links
The BBC is not responsible for the content of external sites.