Report backs Manchester regeneration project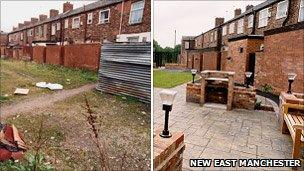 A 10-year project to reverse a decline in one of Manchester's most deprived communities has been a success, an independent report has said.
The £77m Beacons programme exceeded targets and is said to have improved housing, education and services in Beswick, Openshaw and Clayton.
Regeneration firm Ekosgen said the area's community had been key to the success of its 200 projects.
However, the area remains "fragile" and still needs more help, the report said.
The consultancy firm spoke to 150 residents and 25 organisations including Greater Manchester Police (GMP), North Manchester Primary Care Trust and Eastlands Homes.
The evaluation found that Beacon programmes helped develop community spirit in the neighbourhoods, through the creation of community groups to help deliver the projects.
A survey in 1999 found 25% of residents felt closely involved in the local community, but by 2008 this had increased to 53%.
In the same year 40% of people had plans to move from their present home, which dropped to 24% by 2008.
The evaluation team also found:
More than 2,800 housing association properties have been improved
Crime has dropped in the area, including a 40% fall in burglary rates
The number of benefit claimants in the area fell by almost 25% over the 10 years
The percentage of GCSE students gaining five A* to C passes has doubled
The report said the area is "still fragile and regeneration momentum has slowed down due to the recession".
And it also highlighted concerns about health issues, continuing high levels of housing vacancies and unemployment.
Councillor Jim Battle, deputy leader of Manchester City Council said the Beacons programme had made an "essential and lasting contribution" to the area.
"We recognise there is still a great deal that needs to be done but the work undertaken over the past decade has given us solid foundations which we must now build on," he said.
Related Internet Links
The BBC is not responsible for the content of external sites.