Rochdale fraudster stole woman's identity witb passport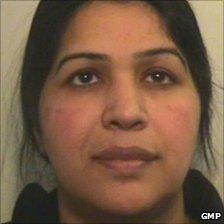 A woman has been jailed for 16 months after being convicted of stealing someone else's identity.
Qamar Yasmeen, 41, of Rochdale, applied for a passport in 2002 using a child's passport lost by the victim in 1992.
She then assumed the woman's identity, securing a job and using the passport to get married in Pakistan, before sponsoring her husband into the UK.
Yasmeen was convicted of possession of false identity documents and sentenced at Manchester Crown Court.
The fraud came to light last year after the victim, who does not want to be named, tried to renew her passport in Liverpool.
Staff checked the system and found that a document had already been issued to someone with the same name and date of birth, but with a different photograph and address.
An investigation by Greater Manchester Police and the UK Borders Agency traced Yasmeen, who had built up a cloned identity using the false passport.
Under the false name she had secured employment, a provisional driving licence, the victim's birth certificate and a Pakistan National Identity Card.
In 2007, she travelled to Pakistan and, using the victim's name, got married before returning to Rochdale with her husband.
Yasmeen, of Mere Street, had denied three counts of possession of false identity documents.
Speaking after she was sentenced, Det Con Ben Harri said: "Yasmeen only provided her true details when she was sentenced but went through the trial using the victim's details.
"She has shown little remorse for her actions and has created a false life for herself from one passport, including getting married.
"The ramifications of what the defendant has done are huge and the victim now has to try and pick up the pieces of her stolen identity."
Related Internet Links
The BBC is not responsible for the content of external sites.