'Strangers' fund Lancashire woman's cancer treatment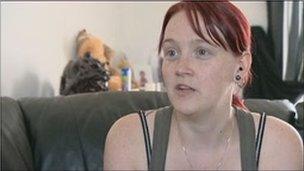 A 27-year-old woman from Lancashire, who was refused funding for cancer treatment, has had it paid for by strangers who heard of her plight.
Heather Parkinson, a pet shop owner from Leyland, has been treated with specialist drugs at London's Royal Free Hospital for Hodgkin's Lymphoma.
NHS Central Lancashire had refused funding as the drug used was not licensed for her particular treatment.
Well-wishers sent Ms Parkinson £19,000 after her story appeared in the media.
Ms Parkinson, who was diagnosed at 19, and had been in remission for five years, said the treatment had been effective.
"The tumours in my neck are no longer active. The tumour in my chest has shrunk by half and the one under my arm has shrunk by two centimetres," she said.
"My sternum was also twisted and that's gone back to normal as well.
"It's the first time I've felt normal in a long time and I've got my energy back and I can breath.
"I'll never be able to thank people enough.
"The fact that total strangers have given me the chance of life again is absolutely amazing."
An NHS Central Lancashire spokesman said: "We could not fund the treatment in this case because the drug that was used was not licensed for the treatment required by this patient."
Ms Parkinson will undergo tests in a few weeks when doctors will decide if she can undergo chemotherapy.
The treatment cost £16,000 with the remaining £3,000 was divided by Ms Parkinson between cancer charities.
Related Internet Links
The BBC is not responsible for the content of external sites.