Tory councillor arrested for assault in Manchester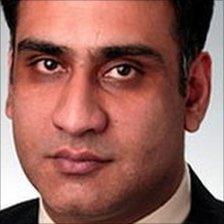 A councillor has been suspended from the Conservative Party after he was arrested on suspicion of threatening to kill his wife.
Manchester City Council's Faraz Bhatti, 34, was arrested after his 43-year-old wife, a police community support officer, rang police from their Withington home on Sunday.
He defected from the Lib Dems in 2008, saying they were too "inward looking".
Mr Bhatti was held on suspicion of assault and threats to kill.
He was later released on bail.
A Tory party spokesman: "I can confirm that Faraz Bhatti was arrested and has been released on police bail.
"As a result, his membership has been suspended pending further investigation."
A Manchester council spokesman said it would not be commenting due to the ongoing police investigation.
Mr Bhatti's solicitor, Raj Chopra, told the BBC that his client had co-operated fully with the police and that he was innocent.
"He has not done anything wrong," he said, "He loves his wife dearly.
"He was very upset to hear the Tory party had suspended him as he knows he has not said or done anything to harm her."
The couple have recently married after being together for five years. Mr Bhatti is currently living with his father in Manchester while she remains at their Withington home.
Related Internet Links
The BBC is not responsible for the content of external sites.