Iconic Oldham Mumps bridge to make way for tram line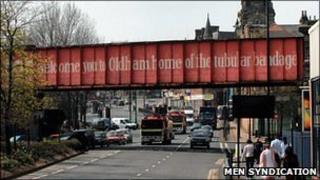 An iconic landmark which provides a reminder to Oldham's past is being removed to make way for a tram line.
For years the former railway bridge at Mumps roundabout has proclaimed the town "home of the tubular bandage".
But demolition work is under way around the site so the new Metrolink extension, which will run into the town centre, can be kept at ground level.
Council leader Howard Sykes said it was a "major milestone" in the project and a historic day for the borough.
After preparatory work is complete, a crane will lift sections of the bridge away.
Once the tram track is laid, transport officials say Metrolink services are expected to start running between Manchester and Oldham Mumps from autumn 2011.
The northern bridge at the roundabout is emblazoned with the message: "Seton welcome you to Oldham: home of the tubular bandage".
Norman Stoller CBE commercialised the bandage invented by his father, Ivor, turning Seton into one of Oldham's biggest employers.
Work to demolish the southern bridge will be carried out at a later date.