Salford protest over maternity unit's closure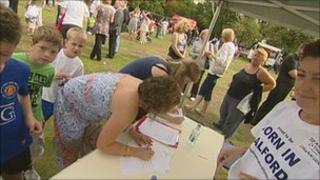 Hundreds of people turned out at a rally to protest at the proposed closure of the maternity unit at Salford Royal Hospital.
The unit is due to close next year as part of a huge shake-up of maternity services across Greater Manchester.
But campaigners say women should not be forced to travel outside the city to give birth and believe the decision could still be reversed.
Salford Royal NHS Trust said GPs were currently reviewing the proposal.
The rally, attended by people born in the city, was held in Buile Hill Park on Saturday.
Smaller 'better'
Organiser Lisa Kean, from the Salford Maternity Forum, said: "We have some serious concerns about capacity and patient safety with the new proposed model and we don't feel like we're being listened to by the PCT.
"We're trying to get that message across and tell people what it actually means, that potentially they're going to be having to travel greater distances but also that there isn't enough capacity in the system at the moment.
"We believe that smaller units are better for families, they're more convenient and they're safer."
In June, Health Secretary Andrew Lansley put on hold the closure of Bury's Fairfield Hospital maternity unit - part of the same reorganisation of services.
Mrs Kean added: "Since Andrew Lansley reversed the decision on Bury, that really kind of discredits the whole model and invalidates it. So I think it's really time they went back to square one and reviewed the whole decision."
The re-organisation of maternity care across Greater Manchester was approved in August 2007 by the previous Labour government.
Under the shake-up, maternity units in Rochdale, Salford, Trafford and Bury were to close to concentrate consultant-led maternity care at eight hospital sites across the region.
Services have already closed at Trafford and units at Salford, Bury and Rochdale were set to follow suit by 2012.
The trust said its position was that maternity services are still due to be transferred in autumn 2011.
However, it said GPs in the area are reviewing the decision and they are expected to come back with their views in October.