Bury police bid to trace dead newborn baby's mother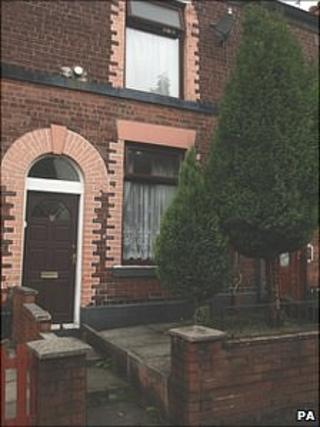 Detectives investigating the death of a newborn baby girl found in a garden in Greater Manchester are trying to trace the mother.
People living at a house in Tinline Street, Bury, found the body in a blue and white striped shawl on Monday.
Police believe the child, possibly of Asian descent, was less than a week old.
A post-mortem examination was inconclusive, but established she was born alive.
Further tests are being carried out to discover her age.
Det Supt Sam Haworth, of GMP's Major Incident Team, said: "We are more than 24 hours after the little girl was found and we are still no closer to identifying the mother.
"I understand that she must be extremely scared at the moment, but the most important thing is for her to get the necessary medical and psychological care she needs following this.
"I am appealing directly to the local community to come to us with any information you may have, what you tell us will be treated in the strictest of confidence.
"I don't know if anybody assisted in the birth of that child or not, but I think we can all imagine what support she needs at this moment in time.
"We also need to know why the baby was left there. There are a number of assumptions we could make, but we need to know the truth.
"If you know of any women or girls who were pregnant and due to give birth in the last week and had been acting strangely, or if the news of the baby being found dead is seriously affecting someone you know then please call us."
Neighbours' shock
The detective said the homeowner had been traumatised by the discovery of the body, which had also upset police and paramedics.
"We deal with death on a regular basis but not involving a newborn child," he added.
A tent was erected outside the house where the discovery was made at about 1100 BST on Monday.
A number of police officers have been stationed on surrounding streets, which have been cordoned off.
Neighbour Debbie Shaw, who lives a few doors away, spoke of her disbelief at the discovery.
"I can't explain how it made me feel yesterday, I'm still in shock," she said.
"It's mortified me. I just can't understand what had gone through this lady's head, just to leave this baby."
Pearl Forrest, who lives nearby, went to the scene to leave an item of baby's clothing in memory of the child.
Mrs Forrest, 41, said: "It's so sad isn't it?
"I've had a stillborn, and when you've had children it's heart rending. There must be a reason behind it, you just wouldn't dump a baby like that."
Detectives said they were investigating the circumstances surrounding the death and inquiries were ongoing.