Mosque appeal over dead newborn's mother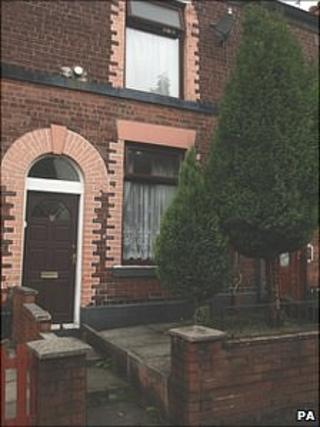 Detectives investigating the death of a newborn baby found in a front garden are visiting mosques and women's centres to try to trace the mother.
The girl - found on Tinline Street in Bury, Greater Manchester, on Monday - has been given the name Aliyah, meaning beautiful in Arabic.
Aliyah, who is either Asian or of mixed race, was found wrapped in a scarf by the shocked home owner.
Detectives said they still had "grave concerns" for the mother's health.
Aliyah was found wrapped in a black and pink, zebra print scarf - not blue and white striped as previously thought - at about 1115 BST on Monday.
Greater Manchester Police (GMP) said she had been carefully placed over the wall of the garden.
A post-mortem examination failed to establish the cause of death, but did establish that she was born alive.
Further tests will be carried out to determine her age, which is thought to be no more than two days.
Scarf tests
Officers are still no closer to identifying the mother and are making the visits to get the message out that she needs medical help.
Det Supt Sam Haworth, of GMP's Major Incident Team, said: "All of the officers working on this investigation felt it was right to give the little girl an identity, no matter how tragically short her life was.
"There are still a number of officers in the local area, speaking to members of the community to try and discover who the mother is.
"I want to also take this opportunity to apologise for the confusion surrounding the colour of the scarf. We are conducting forensic tests to see if we can find any clues as to the owner.
"Obviously we still have grave concerns for the mother's health and the appeal continues for anyone with information to call us."
Anyone with information is asked to contact Greater Manchester Police or Crimestoppers.