NHS Bury plans to suspend IVF treatment to cut costs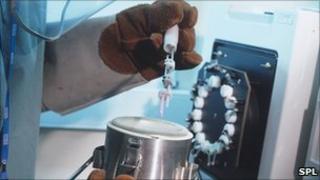 A primary care trust in Greater Manchester is planning to suspend funding IVF treatment to cut costs.
NHS Bury said it has a budget of £25.8m each month but it is spending an extra £1.3m every month.
It also plans to reduce some other "discretionary procedures" including varicose vein and gastric band surgery.
Paul Horrocks, chairman of NHS Bury, said the trust had to "take swift and decisive action to address our current financial problems".
He added: "The board will carefully consider the proposed measures at our meeting on 15 September but we are clear that the current situation is unsustainable and cannot be allowed to continue."
He said the primary care trust had to ensure their books were balanced as the responsibility for commissioning hospital services could be given to GP practices, under government proposals.
A spokeswoman for the trust said the proposals were designed to make savings from 1 October.
If approved, the trust will keep all the measures under review and re-assess its decision while setting the budget for the next financial year (from 1 April).
She said exceptional cases would be considered on a case-by-case basis.
Guidelines from the National Institute for Health and Clinical Excellence recommend couples, where the woman is aged 23 - 39, and have an identified cause for their infertility or have been infertile for three years, should be given three cycles on the NHS.
Other cost-cutting plans include reducing the number of referrals from GP practices and ending "unnecessary following appointments at hospital outpatient departments".
It is also planned that minor illnesses and injuries will be treated in the community rather than in hospital.
Vacant posts
Forty non-clinical jobs which are currently vacant would not be filled under the plans.
John Boyington, chief executive of NHS Bury, said: "NHS Bury has a statutory obligation to meet the health needs of the local population whilst remaining in financial balance.
"To allow this to happen, we need to take these actions that will stem the flow of patients into the system, when this is not required and also for as much waste to be taken out of the system as possible."
He urged people in the borough to use NHS services "wisely" - by not going to the accident and emergency or calling an ambulance unless it is an emergency, and not missing appointments.
The trust hopes the measures will save £16.2m by March 2011.
Impact on patients
Clare Lewis-Jones, chair of the National Infertility Awareness Campaign (NIAC) and chief executive of the patient group Infertility Network UK, said she was angry at the proposal.
She said: "... IVF is not a treatment that people choose to have, as they would far rather have a child in the same way as fertile couple but they cannot, and the only way they can have a family like those fertile couples is through treatment such as IVF.
"It is high time that PCTs realised the impact which infertility has on patients."
Last month, Warrington PCT in Cheshire also announced plans to suspend IVF treatment, to cut costs.