Lancashire Old Trafford cricket plans under review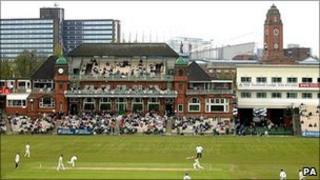 The £32m redevelopment of the Lancashire County Cricket Club (LCCC) ground has been thrown into doubt after a government intervention.
The project, linked to a new Tesco store, is seen as key to securing England Test matches at Old Trafford.
Work on the redevelopment was due to start in autumn, but Communities Secretary Eric Pickles has said he wants to review the decision.
Trafford Borough Council said the development was "disappointing".
The redevelopment plans include rotating the square so it no longer faces the setting sun, plus permanent floodlights and new player and media facilities.
Public inquiry
Lancashire County Cricket Club and Tesco obtained planning permission for the development in March, despite opposition.
Now Mr Pickles has written to the Conservative-run council's planning department to say he wants to review the decision not to call in the application for a public inquiry.
His decision to reconsider the case was made after the office received notice of possible legal action from a developer, which had plans for a rival supermarket in the area rejected.
"The Secretary of State will take all relevant considerations into account before reaching his decision and, for propriety reasons, it is not appropriate to comment on the issues involved ahead of his decision," said a department spokesperson.
Councillor David Acton, Trafford Labour group leader, welcomed the decision, and argues that the Tesco superstore aspect of the development would impact on surrounding town centres, such as Stretford.
"I think the way that the decision has been held is wrong," he told the BBC.
"I think that he [Eric Pickles] will have to call it in and there will have to be a further public inquiry. I think through that public inquiry the deficiencies in the planning process will be exposed."
But Alex Williams, deputy council leader, said the authority was still optimistic the development would go ahead.
"We're disappointed but no firm decision has been taken yet so we remain optimistic that our plans for the regeneration of Stretford and Old Trafford will be able to go ahead as planned," he said.
"It wasn't something we were expecting but we're working with the government and we're hopeful of a successful outcome in due course."
Club officials remain confident the original decision will stand following the minister's review, a spokesman said.
"We are very much focused on starting work on the redevelopment this autumn," he added