Shawl key to dead Bury baby's mother, say police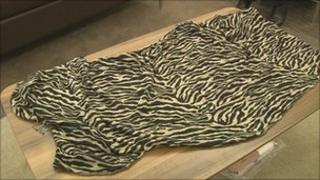 Detectives investigating the death of a newborn baby found in a front garden believe the shawl she was found in could help them trace the mother.
The girl, given the name Aliyah by police, was found on Tinline Street in Bury, Greater Manchester, last week.
Detectives hope photographs of the zebra-print shawl, similar to the one her body was discovered wrapped in, could jog someone's memory.
They also want to trace an Asian couple seen close to where she was found.
The couple were seen standing in the front garden of the next door house at about 1040 BST. Aliyah was found at 1115 BST.
Tests ongoing
The woman, who was in her 20s or 30s and of average build, had long black hair in a ponytail and was wearing Asian-style clothing with a black cardigan and a scarf over the shoulders.
The man had short dark hair with an average build and dark clothing.
Aliyah had been carefully wrapped in a black and pink zebra print shawl and placed by the garden wall.
A post-mortem examination could not provide a cause of death and further tests are being completed.
But it has been established she was not stillborn and was believed to be no more than two days old.
Det Supt Sam Haworth, of Greater Manchester Police, said: "The shawl is a direct link between the baby and her mother.
"I also want to hear from anyone who saw an Asian couple standing in the next door garden about half an hour before Aliyah was found.
"I don't know at this stage whether they either saw something that caused them to stop, or if they were in some way involved."