Cordon lifted on Terminal One at Manchester Airport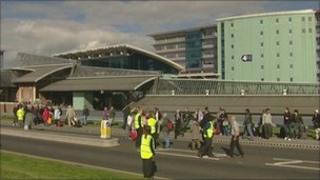 Passengers are being allowed back into Terminal One at Manchester Airport after it was evacuated when a "suspicious bag" was found by police.
Bomb disposal experts have examined the package and confirmed it posed no threat to the public.
Officers questioned the owner of the package but no offence had been committed, police said.
Inbound flights were diverted to other terminals but 1,200 passengers were disrupted by the security alert.
Twenty flights were also affected by the problems in Terminal One.
The cordon around the area has been lifted and people and vehicles are being allowed into the area.
The package was picked up as it went through the X-ray machine in the search area where hand luggage is scanned.
Airport spokesman Russell Craig said that the evacuation was a "standard precautionary measure" under the circumstances.
'X-ray images'
He was confident that the airport would "be able to return things back to normal pretty quickly."
He said: "Current advice to passengers is come to the airport as planned but do expect some disruption."
Terminals Two and Three are open as normal.
A spokesman added: "Although an investigation by specialists from Greater Manchester Police confirmed that the bag was not a threat, we would like to pay tribute to our highly trained security staff.
"They view millions of X-ray images but any suspicious items have to be taken seriously to ensure the safety of our passengers and staff as was the case today.
"We would like to thank all our passengers and airport staff for their patience during the disruption."