Extra patrols in Wythenshawe after man killed at lights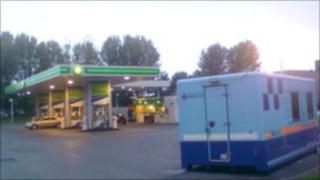 Extra police patrols are being carried out on the streets of south Manchester where a 30-year-old man was shot dead.
Kevin Bond was shot after an argument with the occupants of a car at traffic lights in Wythenshawe on Sunday afternoon.
He suffered a gunshot wound to the stomach and died in hospital later.
Greater Manchester Police (GMP) said there was nothing to suggest it was a random attack and urged witnesses to come forward.
Mr Bond was a passenger in a Seat Leon that was stopped at traffic lights on Rowlands Way, near a BP petrol station, at about 1400 BST.
Police said he had got out and walked over to a silver car behind the Seat when he was shot.
Detectives are continuing to hunt his killer and a temporary police pod has been set up near to the scene. Extra officers are also patrolling the streets.
Supt Hughie Hardiman, from Greater Manchester Police's South Manchester Division, said: "A young man has lost his life and it is a terrible tragedy for his family.
"I can understand the community will be frightened and worried but there is nothing to suggest this was a random attack and they can be reassured that we are doing everything possible to catch those responsible.
"The Major Incident Team is working on the investigation and extra officers from the Neighbourhood Policing Team, Tactical Aid Unit and response officers will be out in the area this week and happy to talk to anyone with concerns.
Detectives will treat information in confidence and stressed that special measures could be put in place to protect witnesses.
"Please do not be afraid to come forward and tell us anything you know," Mr Hardiman added.