Hundreds attend Bolton soldier's funeral service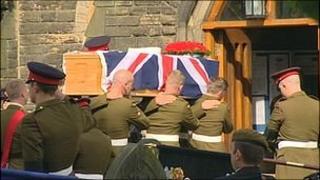 Hundreds of mourners gathered for the funeral of a soldier from Greater Manchester who was described as a "tiny man with a huge heart".
Kingsman Darren Deady, from Bolton, was shot on 23 August protecting civilians in the Nahr-e Saraj area of Helmand.
The 22-year-old, of 2nd Battalion, the Duke of Lancaster's Regiment, died in hospital on 10 September.
Mourners lined the street ahead of the ceremony at St John the Evangelist Church, Westhoughton.
His mother, Julie, told the congregation his death had broken her heart.
Voice missed
In a statement read on her behalf, she said: "To my son Darren, my heart is broken and there is no going back.
"Your mobile phone is on to call me if you can, like you used to do on Sunday or Monday at 4pm to catch up with the family news.
"I still hear you calling and hear those parting words: "I love you mum."
"And I would say 'I love you son, see you later'. I would so love to hear your voice again."
Kingsman Deady lived life "in the fast lane", the congregation was told, and had a passion for singing and motorbikes.
Mrs Deady said she was proud of her son and all of his "brothers from other mothers".
"It was a privilege to have a son like you."
Lt/Col Andrew Kennedy, commanding officer of the 4th battalion, The Duke of Lancaster's regiment, said he was a "superb soldier".
"He was the life and soul, with his trademark cheeky grin and everyone's best mate.
"He was a tiny man with a huge heart," he said.
The service, with full military honours, included the hymn I Vow To Thee My Country and the Puff Daddy song I'll Be Missing You.
The Last Post sounded after his coffin, draped in the Union flag, was lowered into the ground after the service.
Kingsman Deady joined the army in 2008 and was based in Cyprus before he was sent to Afghanistan.
The Ministry of Defence (MoD) said he was helping to protect a "vital location" when his unit came under "prolonged, intense small arms and rocket propelled grenade fire".