Parents who ignored abuse of adopted daughters jailed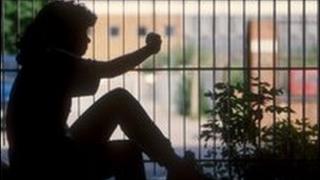 A couple who allowed their adopted daughters to be abused by paedophiles have been jailed for child cruelty.
The sisters, from Trafford in Greater Manchester, were attacked while in the care of two of their parents' friends.
The couple knew but did not step in because the paedophiles helped them with babysitting and money.
The father, 56, also convicted of abusing the elder girl, was jailed at Minshull Street Crown Court for nine years and his wife, 55, for five years.
The father was also ordered to sign the sex offenders register for life.
'Deplorable betrayal'
During their trial in August, the couple - who cannot be named to protect the identity of the children - had denied charges of child neglect for failing to protect the sisters, now aged 10 and 16.
Sentencing the pair, Judge Jonathan Geake said: "This was a deplorable and terrible betrayal of trust.
"No-one can know how much damage this has done to these two girls both physically and psychologically."
He said the girls were "probably more vulnerable than other children" because of their "unfortunate start to life".
Last year, Colin Molloy and Sam Nelson were jailed after admitting a string of sexual offences involving the two youngsters, which started when the girls were seven and 13.
Molloy, 46, admitted nine counts of raping the younger girl while Nelson, 43, pleaded guilty to engaging in sexual activity with both girls.
Both parents relied on babysitting, lifts home and, to some extent, cash from Molloy and Nelson.
"You were prepared to put your own practical convenience before their safety," the judge told the parents.
'Unsanitary house'
The abuse came to light when the younger girl told a teacher in January.
She told police Nelson had been "doing rude stuff to her" at his flat as he minded her after school while both parents were at work.
The girl told her parents about the abuse and her father told her to stop going to his flat, but she said she had had "no choice" as nobody had been at home.
"My mum said they could not do anything because he helped them out with money and a car," the victim said in her police interview.
Molloy raped her in her own home but again her mother did nothing.
Social services removed the girls from their home, which was described as not fit for habitation, unkempt and unsanitary.
They are now in foster care.
'Not remotely suitable'
Ahmed Nadim, representing the father, told the judge his client had poor health and asked for that to be taken into account on sentencing.
Patrick Cassidy, defending the mother, said psychological reports showed she had a "lengthy history of depression" over the past 30 years and had "less capacity to respond, and less culpability even, because of the situation she had with her health".
He questioned whether both defendants with "plain difficulties in their own lives" would have found themselves in the dock if they had not been allowed to adopt in the first place.
Judge Geake told the couple that although they had been deemed suitable to adopt the girls, it was clear "neither of you was remotely suitable or trustworthy as a parent".
Following the conviction in August, Manchester City Council, which conducted the adoption process, said a "full assessment and proper checks" had been carried out.