Manchester 'monster' wheel plans confirmed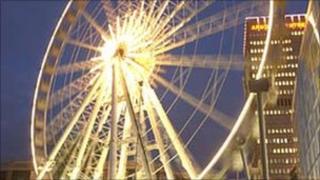 Plans to replace Manchester's big wheel with a larger version have been confirmed by the city council.
The new "monster" wheel will be twice the size of the one in Exchange Square, which stands at 60m (196ft).
Manchester councillor Pat Karney said the new wheel would be too large for its current home, so could be installed in Piccadilly Gardens.
He said logistical investigations were taking place but it was expected to be in place in time for Christmas 2011.
'So popular'
"We're checking out the Piccadilly area, we haven't made a final decision yet because the new wheel would be twice the size of the old wheel," he said.
"These wheels have become really popular in European cities.
"We've had this wheel now for four years, they have become so popular with the public."
A big wheel first arrived in Manchester in 2004.
It was never meant to be a permanent attraction, but has since become a feature of the city's skyline.
The gondolas offer views for miles with each providing commentary on the surrounding landscape.
The monster wheel would be run by current operators World Tourist Attractions and, just like the London Eye, would be in continuous motion.