Manchester man who murdered niece will 'never be freed'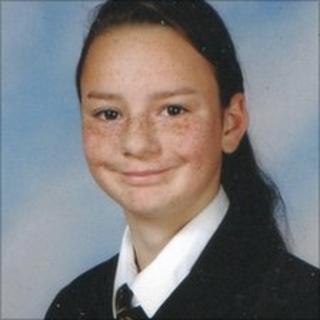 A man obsessed with rape, torture and child abuse has been jailed for life for murdering his 12-year-old niece.
John Maden lured Tia Rigg to his home in Cheetham Hill, north Manchester, on the pretext of babysitting - but drugged and killed her.
He then called police himself and was "chillingly calm" when officers arrived, Manchester Crown Court heard.
Maden, 37, who pleaded guilty to rape and murder, was told he would never be allowed to face a parole board.
The court heard that Maden had become obsessed with violent pornography and images of child abuse that he had downloaded from the internet.
Gordon Cole QC, prosecuting, said: "In general terms this murder was premeditated.
"It was murder purely for his sexual gratification - it had a sexual motive. The facts reveal clearly features of torture, rape, physical abuse and the ultimate murder of a child."
Mr Cole said Maden had developed an "obsessive interest" in images and literature relating to paedophilia, rape and torture.
"He had an extensive library of such materials which included literature dealing with methods of killing," he told the court.
Greater Manchester Police found hundreds of extreme images of child abuse and violent pornography on a laptop belonging to the defendant.
Mr Cole added: "This material and the subsequent discovery of Tia reveals that this defendant was acting out a long-held fascination with rape, torture and abuse of children.
"He re-enacted scenes from his collection of pornographic material."
The court heard that Maden had called his sister at 1417 BST on 3 April to ask Tia to go to his house. She arrived just before 1500 BST and was dead within 45 minutes.
A post-mortem examination later revealed that Tia had been stabbed in the abdomen and suffered severe internal injuries.
Maden later told police he heard "voices - one good voice and one bad voice - in his head" but admitted the rape and murder of his niece, the court heard.
Passing sentence, Mr Justice Keith told Maden that he would never be released.
The judge said: "It is inescapable that Tia Rigg died because you decided to realise your fantasies about torturing and killing a young child.
"The fact that you chose your 12-year-old niece, who had put her trust in you, makes what you did all the more unspeakable," he added.
"This was an horrific crime in which a young girl who had everything to live for and placed her trust in you was inveigled into your lair. It was planned, it was premeditated and her agony must have been prolonged.
"This is one of those exceptional cases in which the only just punishment requires you to be imprisoned for the rest of your life."
Tia's mother and other members of her family were in court to hear Maden's plea.
In a statement released through police after the hearing, Tia's mother - and Maden's sister - Lynne Rigg said: "When this nightmare happened, it killed me inside.
'Nightmare never ends'
"My heart has been broken and will never mend.
"All that is left is a big empty hole. For me, this nightmare will never end but now justice has been done at least Tia can rest in peace. "
Det Ch Insp David Warren, who led the investigation, said Maden had refused to offer a motive in police interviews.
"What I do know is that he has caused a great deal of suffering to someone he was supposed to love," he said.
"He will now have a long time to reflect on what he has done."