'Drowned' man spotted by friends in shopping centre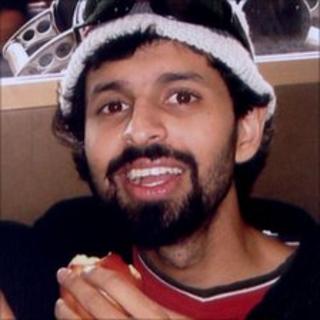 Friends of a missing man thought to have drowned last year believe they have seen him shopping in Manchester.
Australian Salim Nakhuda was visiting family in Bolton, Greater Manchester, when he disappeared in October 2009.
A week later three police officers saw a man thought to be the 27-year-old disappear under the surface of the River Ribble in Lancashire.
But following a recent sighting in the Arndale Centre, police have renewed their appeal for help to trace him.
Mr Nakhuda went missing from the family home on Willows Lane, Deane, on 26 October 2009.
On 2 November, a Pc and two PCSOs from Lancashire Police saw a man fitting his description enter the river at Avenham.
He swam in the river and several attempts were made to throw him a lifeline, but he went under the water and failed to resurface.
At the time, officers said although they could not be 100% certain they believed the man was Mr Nakhuda.
Following the latest, unconfirmed, sighting, Greater Manchester Police (GMP) are meeting Mr Nakhuda's sister, who has travelled over from Australia.
Pc Sue Wallace, Bolton missing persons co-ordinator, said: "It has been nearly a year since Salim went missing and his family, both in the UK and Australia, are understandably very worried about him.
"Two of Salim's friends thought they recently saw him in the Arndale Centre so I would ask people to look at his picture and if you do see this man, please call us so we can reunite him with his family.
"I also want to appeal to Salim directly. Your sister Yasmin has come all the way from Australia to find you and is desperate for you to get in touch."
Mr Nakhuda is described as being of medium build with short dark brown hair, a beard and brown eyes. He is about 6ft 2ins tall.
On the day of his disappearance he was wearing a black coat with a hood, a white t-shirt and white Nike track suit bottoms with a red stripe on the leg, and black trainers.