Hope for 'drowned man' who went missing in Lancashire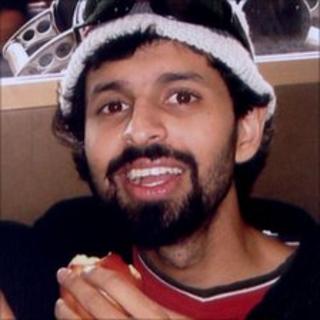 The sister of a missing man believed to have drowned in a Lancashire river said she has fresh hope after two sightings.
Yasmin Nakhuda has flown 10,000 miles (16,093 km) from Australia to try and find her brother and hopes she will be able to bring him back home.
Salim Nakhuda, 27, was visiting family in Bolton when he was last seen in the River Ribble last October.
However, after a recent sighting in the Arndale Centre, police have renewed their appeal for help to trace him.
Ms Nakhuda, a radiotherapist, said: "I believe he's depressed and he's gone into hiding thinking his family doesn't love him.
'Breaks down'
"I'm worried he's not in a good state of mind and I just want to find him.
"My mum is so depressed she cries every day. Whenever she sees something belonging to Salim in the house she breaks down.
"It's all come at once, my mum was diagnosed with cancer last year and now Salim disappears."
Mr Nakhuda flew to Bolton to stay with family in Willows Lane, Deane, last year after losing his job in the hospitality industry.
She said the recent sighting of him shopping, and the fact no body has been found, is keeping her feeling positive.
Pc Sue Wallace, Bolton missing persons co-ordinator, said: "It has been nearly a year since Salim went missing and his family, both in the UK and Australia, are understandably very worried about him.
"Two of Salim's friends thought they recently saw him in the Arndale Centre so I would ask people to look at his picture and if you do see this man, please call us so we can reunite him with his family."
It is believed that the last sighting of Mr Nakhuda was in the River Ribble by Avenham.
Despite a Pc and two PCSOs from Lancashire Police trying to throw him a lifeline, he disappeared from under the water.
However they have always maintained they could not be 100% sure that the man in the river definitely was the missing 27-year-old.
Ms Nakhuda added: "We just want him back - we want the happiness in our family to come back."