Girl sends tooth fairy £1 to David Cameron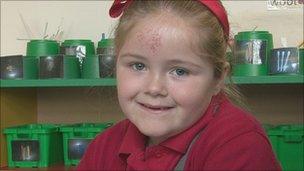 A girl of six from Salford wrote to the Prime Minister offering to give him the £1 she received from the tooth fairy to help pay off the national debt.
Niamh Riley, a pupil at Moorfield school in Irlam, told David Cameron it was "to pay for lots of jobs".
Mr Cameron mentioned the offer in his conference speech on Wednesday, saying to the Chancellor George Osborne "there we are George, nearly there".
However, he sent the pound coin back and told Niamh to treat herself.
Or she could "save it for a rainy day", he said.
Niamh said: "I'm going to put it in my moneybox so me and Jason [her brother] can spend it on something."