Manchester child deaths 'unpreventable', report finds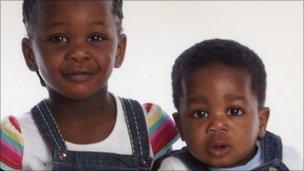 The deaths of two children who were murdered by their father in Manchester could not have been predicted or prevented, a report has found.
The Serious Case Review was carried out into the deaths of Yolanda Molemohi, four, and two-year-old Theo Molemohi.
The children were killed by Petros Williams at his flat in Whalley Range in October 2009, to punish his estranged wife for seeing other men.
He was found guilty of murder and jailed for life in March.
The review was carried out by Manchester Safeguarding Children Board.
Chairman Ian Rush said there were no warning signs before the killings.
"There had been no evidence of any kind that this man was capable of such a serious and heinous act really," he said.
"There are things that could have been improved that we will improve as a result of this case, but no professional in touch with this family could have reasonably foreseen that this terrible crime was going to occur.
"There just wasn't any kind of indicator or any evidence that you could say, this man presents a serious risk."
Zimbabwe-born Williams used internet connection cords to choke the children.
He wanted to punish his wife Morongoe Molemohi, 30, for using dating websites after the breakdown of their marriage.
He left her a video tape showing him with the children saying: "Say, 'bye Mummy'."
There was a note attached which said, "Play the video, made for your memories, thank you, Petros".
Related Internet Links
The BBC is not responsible for the content of external sites.