Couple's 10/10/10 wedding hopes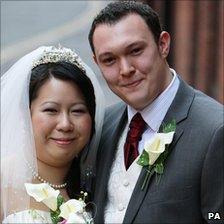 A Greater Manchester couple tied the knot hoping the date of 10/10/10 would bring them good luck.
According to Chinese tradition the symmetry of the date means the date was "perfect".
Ngaryan Li, 28, and Steven Higham, 26, from Lowton, were married at Manchester Register Office, which opened specially on Sunday for a handful of services.
"I don't think that we could have got a more perfect day to get married. Even the weather is good," said the bride.
The couple, who both work in the legal industry, planned their big day for more than a year after getting engaged two-and-a-half years ago.
The bride said: "It's a tradition all over the world. I've heard in Hong Kong people booked quite a few years in advance, so we are really lucky."
The 15-minute ceremony, which was attended by the couple's families and friends, ended with applause as the happy couple kissed each other.
Manchester Register Office opened for only the third time on a Sunday since it was established in 1837.
Steve Wilson, who led the ceremony, said: "We're not normally open on a Sunday, but obviously it's a special day and we like to try to cater to the community of Manchester."
The wedding was the last of five held in the register office on Sunday.
Related Internet Links
The BBC is not responsible for the content of external sites.