Hollywood executives on Mancunian location mission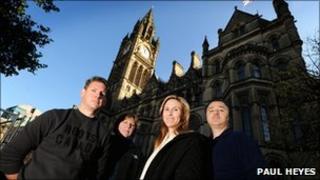 Down in the bowels of Manchester Town Hall, a group of Hollywood film executives are gazing up at the Victorian architecture seeking inspiration.
Bright sunlight is glinting through the spaces at the top of the towering building, but down on the cobbled floor of the courtyard the Californians are lost in the gloom.
"Essentially, it's completely untouched since its construction in 1877," the tour guide explains to the group.
This, it seems, is a good thing.
Because for these US-based executives, visiting the city as part of a four-day whistle-stop tour of the North West, it seems the preservation of the city's architecture - down to the Victorian soot still clinging to the walls - is something they can work with.
Captain America
Last month, the Northern Quarter's towering pre-war buildings were transformed into 1940s Brooklyn for filming on the big budget comic book film, Captain America. Before that, scenes from the latest incarnation of Sherlock Holmes were shot at the town hall.
It is a legacy that Vision+Media - an agency which supports the region's creative industries - is keen to build on, which is why it is hosting senior executives from US production companies to show off the region as a potential location.
So far the group - which includes representatives of HBO, which is behind US series' such as True Blood and The Wire, and Summit Entertainment, makers of the Twilight saga - seem impressed.
Susan Williams, Vision+Media's drama liaison officer, said: "Most people are under the belief that if you want to film in Britain you go to London, and what we're doing is to show you that Britain is a much bigger place, and areas such as the North West can cater for productions of any size."
Last year, the agency facilitated 540 productions in the region, bringing in an estimated £48m of investment. The Marvel-produced Captain America - and its 500-strong crew - spent an estimated £1m alone.
Ms Williams, who is from nearby Oldham, spent a few weeks working on the set and said Marvel were "very impressed" with their reception from the city council, which provided road closures, as well as the patience of residents and businesses.
"If any of those components didn't agree or weren't helpful with the filming we would never have been able to get it here in the first place... it really is a group effort to make that successful - and it was really successful," she added.
Web developer James Galley was one of those affected by the Captain America shoot. He works out of an office on Dale Street, which was closed off, and ran a highly-successful blog charting the production.
But despite the disruption, road closures and security staff suspicious by office workers' every move, the 30-year-old, who lives in New Mills, told the BBC he would welcome them back.
"There was an incredible change of atmosphere on the street, from a street you see every day, just a regular back street, they'd managed to transform it into an absolutely incredible lifelike atmospheric 1940s Brooklyn.
"I think Manchester is a fantastic setting for it," he added. "The buildings are incredible, the architecture is incredible. I can see why people would want to come here and make movies."
On their tour of Manchester Town Hall, it is not the history of the building that particularly interests the film executives, but rather how its stunning architecture can be used to help deliver their companies' artistic visions.
Just half a day into their tour, Greg Schenz, of LA-based production company Endgame Entertainment, told the BBC it was already at the forefront of his thinking in deciding on locations.
After praising the city's facilities, locations and people, he said: "The fact it can double for a lot of different places, makes it very attractive.
"Now there are a lot more [projects] that I'm thinking of, that would not necessarily jump to mind as an English type of setting, because the city can double for so many different metropolises.
"Am I likely to come back? Yes, definitely."