Shotwick bell stolen from church in Cheshire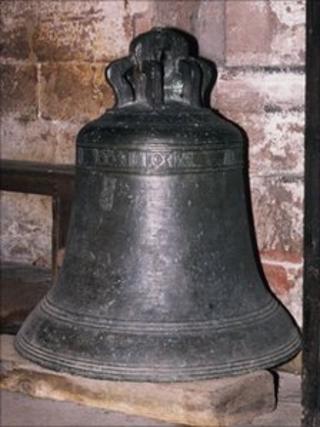 A bell dating back to 1664 and weighing 29st (180kg) has been stolen from a Cheshire church.
All that remains of the Shotwick Bell is a few fragments that were broken off as the thieves carried it out of St Michael's Church in Wirral between 3 and 7 October.
The Reverend Cathy Helm said it was an important part of the church's history.
Police are working with scrapyard owners to discover if anyone has tried to sell it.
The Shotwick Bell was cast during the reign of King Charles II, and the Reverend Helm said it had formed an integral part of the community.
The bells within the church's tower are still regularly heard across the village.
Sgt Darren Griffiths, of Cheshire Police, said: "We are working with scrapyards and local dealers, just to establish if any person tried to sell it for scrap metal and have it melted down.
"The historical and sentimental value far outweighs the monetary value of this bell."