CCTV image released in Manchester double rape inquiry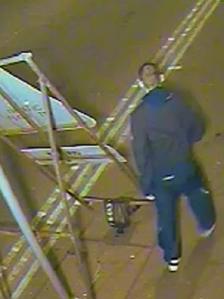 Police have released CCTV images of a man suspected of carrying out two rapes in three days in Manchester city centre.
In the latest attack a female sex worker was beaten up and raped in Fairfield Street, near Piccadilly station, on Wednesday night.
Detectives believe the attack is linked to the rape of a 20-year-old woman in the early hours of Monday in nearby Wyre Street.
Patrols have also been stepped up.
The suspect was caught on CCTV shortly before Wednesday's attack as he walked along Fairfield Street.
Officers are now working with sex workers and are stressing that all women must be extra vigilant and avoid putting themselves in potentially dangerous situations.
Both victims received hospital treatment following the attacks, which police have said were particularly violent.
They have also been offered specialist counselling to help them cope with the trauma.
Det Supt Julian Snowball told the BBC that the descriptions of the sex attacker, the similar way both rapes were carried out and the fact they were in the same area pointed to a double rapist.
"It's an area that many many women pass through, as it's a main route through the city.
"Keep to the well-lit areas, and try to stay with friends or take a licensed cab around the area.
"Walk on the side of the road where traffic is coming towards you so you are clearly seen at all times.
"The person responsible is clearly at ease using physical and sexual violence against women and that is why it is vitally important people look at the CCTV images and if they think they know who that man is they call police."
The offender is described as white, between 20 and 30 years old, 5ft 6in or 5ft 7in tall and spoke with a Manchester accent.
Related Internet Links
The BBC is not responsible for the content of external sites.