Front-line policing 'hit by cuts' says Peter Fahy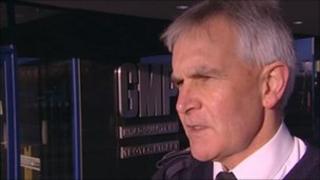 Spending cuts will affect front-line policing, the chief constable of Greater Manchester has warned.
Police funding will be reduced by 4% a year, Chancellor George Osborne announced in his Spending Review.
Peter Fahy said there was "no question" the cuts would lead to fewer officers.
Elsewhere, electrification of some railway lines into Manchester and a £44m women and children's unit at Royal Oldham Hospital will go ahead.
Greater Manchester Police (GMP) had previously warned it was preparing to cut 3,100 jobs, including 1,500 officers and 1,600 civilian workers from a total of 12,000 employees.
In a statement after the Spending Review was announced, Chief Constable Fahy said: "It will be a number of weeks before we have a clear picture of exactly what that will mean for Greater Manchester Police but it is roughly in line with what we were expecting.
"We have been preparing for some time for the fact that we will have to take our share of cuts and have therefore looked at how we are spending money in the most efficient way to ensure that front-line policing is protected."
Fare rises
The neighbouring Cheshire Constabulary has already embarked on a programme of £6.7m of cuts for this year, and said 170 police staff posts would go.
Chair Margaret Ollerenshaw said: "Eighty four per cent of our costs are people related, so we will have to look at all aspects of our business in order to reduce costs.
"It is too early to say how many jobs will have to be cut in order to meet the public expenditure reduction targets, but it is clear that there will be considerably fewer police officers and fewer police staff in four years time."
The chancellor confirmed rail lines between Manchester, Liverpool Lime Street, Preston and Blackpool will be given a £100m upgrade.
There had been fears the scheme, proposed by the previous Labour government, would be scrapped by the coalition when Earl Attlee told the House of Lords in June there were "problems" with spending money on electrifying lines given the state of the public finances.
However, rail commuters will face increased annual fare increases from 2012 to help pay for the upgrade.
The Pennine Acute Trust, which runs the Royal Oldham Hospital, has said work will start on the new women and children's supercentre next month.
Once built, it will be one of three regional centres providing intensive care for small and vulnerable babies for parents in Oldham, Rochdale and the surrounding areas.
Graham Lord, head of estate development, said it was "a very exciting time" for the hospital.